Labour and education in the news
Below are recent news stories on labour and education related issues. Click the headline to be taken to the article. Some may require a subscription.
December 2, 2021
Some students frustrated as U of M strike stretches on (video)
Global News
"It's very much a mixed bag. There are students who just want the strike to be over. There are students who are still supporting UMFA's cause…"
UMSU endorses binding arbitration in UMFA strike
The Manitoban
The motion, brought forward by UMSU executives, was amended to address UMFA's non-monetary concerns, which were initially not included in the proposal.
U of M vice-president (external) resigns
The Manitoban
"The External Relations team will continue its outstanding, award-winning work in philanthropy, alumni relations, marketing communications and government relations," Kearsey said in a statement.
November 30, 2021
Government making U of M less competitive
The Manitoban
Why attend the University of Manitoba? It's a question that can be asked in two contexts: why does the U of M seemingly feel weighed down by political decisions of the provincial government? And why should a student come to the U of M despite these struggles? Within the past five years, the U of M has been affected by two strikes, one strike threat, three straight years of tuition increases and budget cuts that took international students off the provincial health-care plan.
November 29, 2021
The strike is an inconvenient necessity for students
The Manitoban
From a student's perspective, it can sometimes be hard to see the conflict between the University of Manitoba Faculty Association (UMFA) and the University of Manitoba as anything but a massive inconvenience. Some classes continue undeterred with others unceremoniously called to a halt with no rhyme or reason from student to student. Graduation dates are in jeopardy — a nightmare for international students and those with post-graduation jobs lined up — and there is a real danger the winter term reading week will be lost if the strike goes on much longer.
U of Manitoba Mediator Calls Out Union
Manitoba Post
The Mediator recommending arbitration in the University of Manitoba strike says the union is being unrealistic.
U of M strike continues (video)
Global News
The University of Manitoba and its professors have yet to reach a settlement and could expect binding arbitration.
Letter to the Editor - U of M salaries compared
Winnipeg Free Press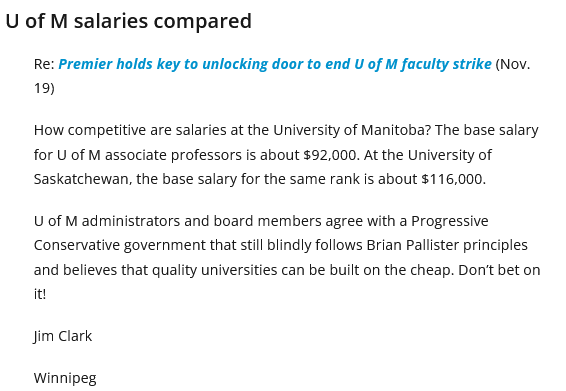 November 27, 2021
Mediator scolds University of Manitoba Faculty Association for rejecting arbitration to end strike
CBC
A mediator has slammed the striking University of Manitoba Faculty Association for failing to accept binding arbitration in its labour dispute with the University of Manitoba, saying there is no further value in mediation.
Mediator chides U of M faculty association for dragging out strike
Global News
A mediator is urging the University of Manitoba Faculty Association (UMFA) to accept binding arbitration to settle its contract dispute with the University of Manitoba.
Mediator blames U of M faculty for prolonging strike
Winnipeg Free Press
A labour mediator says striking faculty members at the University of Manitoba should put down their pickets and return to class so students "should not continue to suffer during a leisurely and ultimately futile negotiation."
L'Association des professeurs de l'Université du Manitoba rejette l'arbitrage
Radio Canada
L'Association des professeurs de l'Université du Manitoba (UMFA), en grève depuis le 2 novembre, rejette le processus d'arbitrage contraignant pour mettre fin au conflit de travail. Une décision que lui reproche le médiateur Arne Peltz dans sa recommandation finale.
Mediator suggests binding arbitration in labour dispute keeping thousands of students out of class at University of Manitoba. (video)
City News Winnipeg
Only fully vaccinated University of Manitoba staff and students allowed to return to in-person classes
CTV News
Manitoba's largest university says unvaccinated employees and students who have not received an approved exemption will be placed on unpaid leave or deregistered from in-person classes this winter.
University of Manitoba to resume in-person classes for winter term
Global News
The University of Manitoba says students will be back on campus for in-person learning for the winter term, after nearly two years of remote learning due to the COVID-19 pandemic.
November 26, 2021
'Bad luck' contract timing puts U of M academics in tough spot
Winnipeg Free Press
ALL eyes are on academics at the University of Manitoba amid their labour dispute — not because other post-secondary faculty associations have been exempt from government wage mandates, but because of timing.
November 25, 2021
Tories vow to kill wage freeze, but labour not so trusting
Winnipeg Free Press
The Progressive Conservative government says it will kill a contentious wage-freeze bill but the Manitoba Federation of Labour will still ask the Supreme Court to drive a stake through the heart of the legislation to ensure it can't be revived.
Tories have to put money behind promise to repair labour relations
Winnipeg Free Press
Ding-dong, the wicked old Public Service Sustainability Act is dead.
Manitoba finance minister promises 'fresh start' with public sector unions
Global News
The Manitoba government says it will repeal a wage-freeze bill for public-sector workers, despite a recent court victory.
Skeptical opposition not sold on new approach portrayed by Manitoba's new premier
CBC
Heather Stefanson followed up her first question period as Manitoba's premier by visiting a prominent politician who was continuously at odds with her former boss.
November 24, 2021
Manitoba Government Will Repeal The Public Services Sustainability Act
Government of Manitoba
The Manitoba government will repeal the Public Services Sustainability Act, Finance Minister Scott Fielding announced today.
Government lawyer concedes UMFA's constitutional rights violated during 2016 bargaining, argues $28 million in damages would be unfair to taxpayers
CTV News
Lawyers for the Manitoba government acknowledged in the Court of Queen's Bench on Tuesday it was unconstitutional for the provincial government in 2016 to impose a secret bargaining mandate when the University of Manitoba and the University of Manitoba Faculty Association (UMFA) were in the middle of contract talks.
Flin Flon MLA Report: PC government continues to ignore the needs of people in the North
Thompson Citizen
Earlier this month, Heather Stefanson became the new leader of the Progressive Conservative party and our new premier of Manitoba. Unfortunately for all of us, this change does not mean that her policies will be very different from her predecessor, Brian Pallister. The signs are already evident – even as COVID cases and hospitalizations are steadily increasing, surgeries are once again being cancelled, and a University of Manitoba Faculty Association strike has been going on for weeks, Premier Stefanson remains missing in action.
Few specifics, little urgency offered to tackle health-care challenges, critics say
Winnipeg Sun
Doctors Manitoba, an advocacy group representing over 4,000 physicians, say they are concerned Premier Heather Stefanson's first throne speech on Tuesday offers few specifics, and little urgency, on tacking Manitoba's medical procedure backlog, which affects approximately 10% of Manitobans.
Manitoba throne speech promises education, health-care reforms, but with 'more collaborative' approach
CBC
Manitoba Premier Heather Stefanson says she plans to chart a new course for her provincial government by going back to the drawing board on reforms to education and health care.
November 23, 2021
UMFA seeking $28 million in damages from province for government's interference in 2016 labour negotiations, court hears
CTV News
As the University of Manitoba Faculty Association's (UMFA) current strike entered its fourth week, lawyers for the union which represent academic staff told a Manitoba judge UMFA members should be awarded $28 million in damages due to the circumstances that preceded the 2016 strike.
U of M Faculty Association seeks $28.8M from province for 2016 contract interference
Winnipeg Free Press
The University of Manitoba Faculty Association is seeking nearly $30 million in damages from the province, following court rulings it interfered with contract negotiations between the group and employer in 2016.
Mediator recommends binding arbitration to resolve U of M strike
Winnipeg Free Press
As striking educators at the University of Manitoba enter their fourth week on the picket lines, a mediator has recommended the parties involved settle outstanding issues in binding arbitration so courses can resume.
U of M faculty strike talks hits stalemate, mediator calls for binding arbitration
CBC
The mediator trying to find a middle ground in the three-week-long University of Manitoba faculty strike has hit an impasse and is recommending binding arbitration to resolve the dispute.
1st throne speech from new Manitoba premier promises to keep nurses in province, re-examine rural health care
CBC
In the first throne speech since Heather Stefanson became Manitoba's premier, the Progressive Conservative government promises to re-examine changes proposed to rural health care, ensure more graduating nurses stay in the province and introduce a strategy to reduce homelessness.
November 22, 2021
Shorter winter break in sight for students as U of Manitoba strike enters 3rd week
Global News
The University of Manitoba and its professors will enter its third week of strike action Wednesday. The stress is heightening for students like Lindsy Degagne, as the weeks go by and classes continue to be cancelled.
Strike At The University Of Manitoba: Interview With David Camfield
Passage
For this week's Class Struggle newsletter, I spoke with David Camfield about the ongoing faculty strike at the University of Manitoba.
Premier holds key to unlocking door to end U of M faculty strike
Winnipeg Free Press
On Monday morning, in a courtroom well away from the picket lines at the University of Manitoba's Fort Garry campus, there will be a gathering of officials from the province, the school and the union representing striking teachers that could be the beginning of an end to the labour conflict that has shut down classes for thousands of students.
Interference at universities must stop
Winnipeg Free Press
It's been a tough couple of years for university students in Fort Rouge. I know that students have worked hard to adapt to online learning, and faculty have been finding new ways to teach and connect with their students, but it's still not the same as being with your peers and professors on campus. Now the Progressive Conservative government is only making life harder for students.
November 19, 2021
UMFA calls on administration to release wage mandate details
Winnipeg Free Press
Faculty members on strike at the University of Manitoba want their employer to release the details of a government wage mandate that they say is stalling the conclusion of a new agreement.
November 18, 2021
Some U of M profs return to work
Winnipeg Free Press
Some faculty members at the University of Manitoba who went on strike earlier this month have ditched the picket lines and returned to work amid an ongoing stalemate in negotiations.
Why students support faculty
Winnipeg Free Press - Letters to the Editor
New plans for interrupted classes (p.3); Fall term break provided little rest for labour activists (p.3); Students emphasize research amid faculty strike (p.5); Pallister's legacy living on in Stefanson's administration (p.10); Austerity holding students and province back (p.12)
The Manitoban
November 17, 2021
Manitoba's Minister of Advanced Education Wayne Ewasko says there's no mandate from the province around the UMFA, U of M bargaining but the institutions president says the school is following direction from the province.
City News (video)
Students must be at forefront in strike talks
Winnipeg Free Press
New Manitoba premier Heather Stefanson and senior ministers have gone to considerable lengths to distance themselves from many unpopular aspects of the legacy of former premier Brian Pallister. The strike by University of Manitoba faculty is an opportunity to show how the new PC team is different from the old.
Letters, Nov. 17
Winnipeg Free Press
New premier 'very, very busy' in lead-up to new legislative session
Winnipeg Free Press
Premier Heather Stefanson has apologized for not making herself available to answer questions from reporters but says, however, she is not "hiding."
Faculty union's mock search party 'insult' to families of missing, murdered, advocate says
CBC
A stunt by striking University of Manitoba faculty members to bring attention to their cause has drawn criticism from advocates and families of missing and murdered women.
How does UM's offer impact UMFA salary structures?
UM Today
This story has been edited to reflect UM's new three-year proposal on Nov. 15. You've heard talk of significant changes to the salary structure in the university's monetary proposal to UMFA as they work to negotiate a new collective agreement. And you've no doubt heard how these fundamental changes to the salary grid will allow UM to compete nationally and internationally for talent, addressing recruitment and retention challenges.
November 16, 2021
Mediation resumes between U of M and UMFA (video)
Global News
Mediation has resumed between the University of Manitoba and the Faculty Association as the strike nears the two-week mark.
Faculty-backing students set up blockade outside U of M administration building
Winnipeg Free Press
Two weeks into a faculty strike that has halted learning at the University of Manitoba, students stood on the snowy steps outside the office of the school's president Monday to form a symbolic blockade.
November 15, 2021
Students block doors at University of Manitoba building, demand administrators get back to bargaining table
CBC
A group of University of Manitoba students is blocking the doors to the administration building Monday morning to show of support for striking faculty.
Students staging lockout at U of M admin building as strike continues
CTV News
A group of students is standing outside the doors of the University of Manitoba administration building on Monday to prevent administration staff from entering the building.
Student Organizing 101 at the UMFA strike
Rank and File
Since November 2, more than 1,200 members of the University of Manitoba Faculty Association (UMFA)—including professors, librarians, lecturers, and instructors—have been on strike following a strong 85 percent strike mandate in mid-October. This strike comes only five years after the last by UMFA in 2016.
Standing up for all students and educators
Canstar News
For the past five years, the Progressive Conservative government has continually put money ahead of Manitobans.
What does Premier Stefanson mean for Fort Garry?
Canstar News
On Oct. 30, the governing Progressive Conservative party elected a new leader who became premier of Manitoba on Nov. 2 —Heather Stefanson.