News You Can Use: Bill 28/PSSA
*New* Oct. 13, 2021 - Decision on the Government's appeal of the PSSA ruling - available here.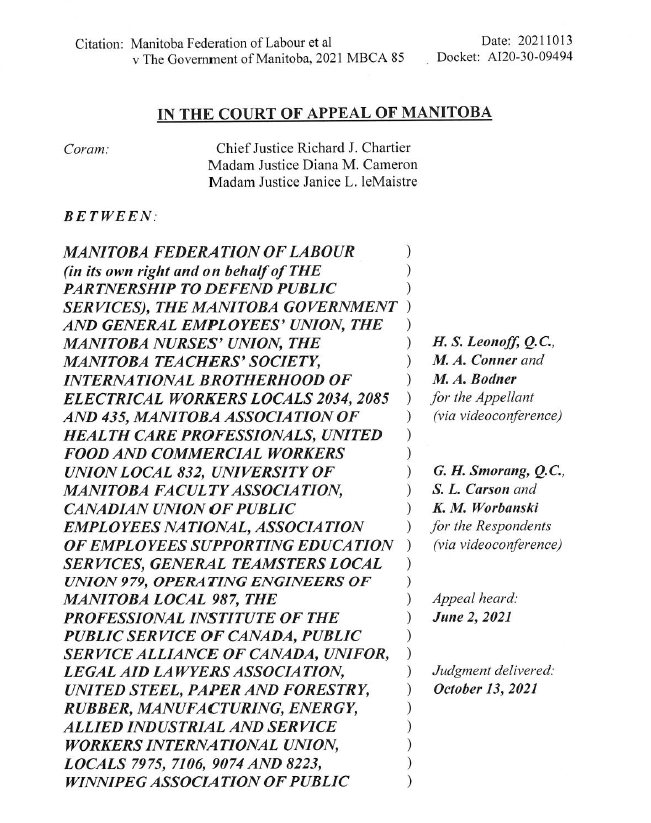 Feb. 25, 2021 - The Partnership to Defend Public Services has filed a reply to the Government's appeal of the PSSA decision, which declared the PSSA 'draconian'. Read it here.
Jan. 4, 2021 – The Manitoba Government has filed the details of its Appeal of Justice McKelvey's decision, available here.
June 11, 2020 - Justice J. McKelvey declares that the PSSA is unconstitutional. The full decision can be found here. You can also find a summary of the decision on our legal firm's website.
Jan. 2020 - The following is a helpful resource on the background and legal context of the PSSA trial, written by a former lawyer: https://manitoba-pssa-ontrial.com/.
Nov. 2019 - This fact sheet contains information on both Bill 28 and Bill 2, which was introduced in the fall of 2019: Public Services Sustainability Act Fact Sheet - Manitoba Federation of Labour
Bill 28, the Public Services Sustainability Act was introduced by the Pallister government earlier in the Spring of 2017. This legislation will freeze the wages of 120,000 public-sector workers for two years and cap their pay for another two years. UMFA submitted a letter to the Standing Committee on Bill 28, which can be found here, and also appeared at the hearings on May 8.
The Partnership to Defend Public Services (PDPS) is a group of unions representing over 100,000 workers in Manitoba. The group was formed to challenge the Pallister government's Public Services Sustainability Act, and to defend public services and their employees. Since entering office, the Pallister government has been unwilling to consider suggestions from Manitoba unions on ways to reduce spending and has instead chosen to move forward with legislation that inherently undermines the bargaining rights laid out in the Canadian Charter of Rights and Freedoms.
July 4, 2017
The PSPD filed for an injunction against the Act. See statement of claim below (click on the image to access the entire document), as well as a press release issued by the Manitoba Federation of Labour on behalf of the Partnership.
October 20, 2017
The PDPS officially filed an injunction against the PSSA along with evidence that the Act will infringe on the bargaining rights of Manitobans. An expert's opinion on the damage caused by the legislation was also submitted. To read the press release, click here.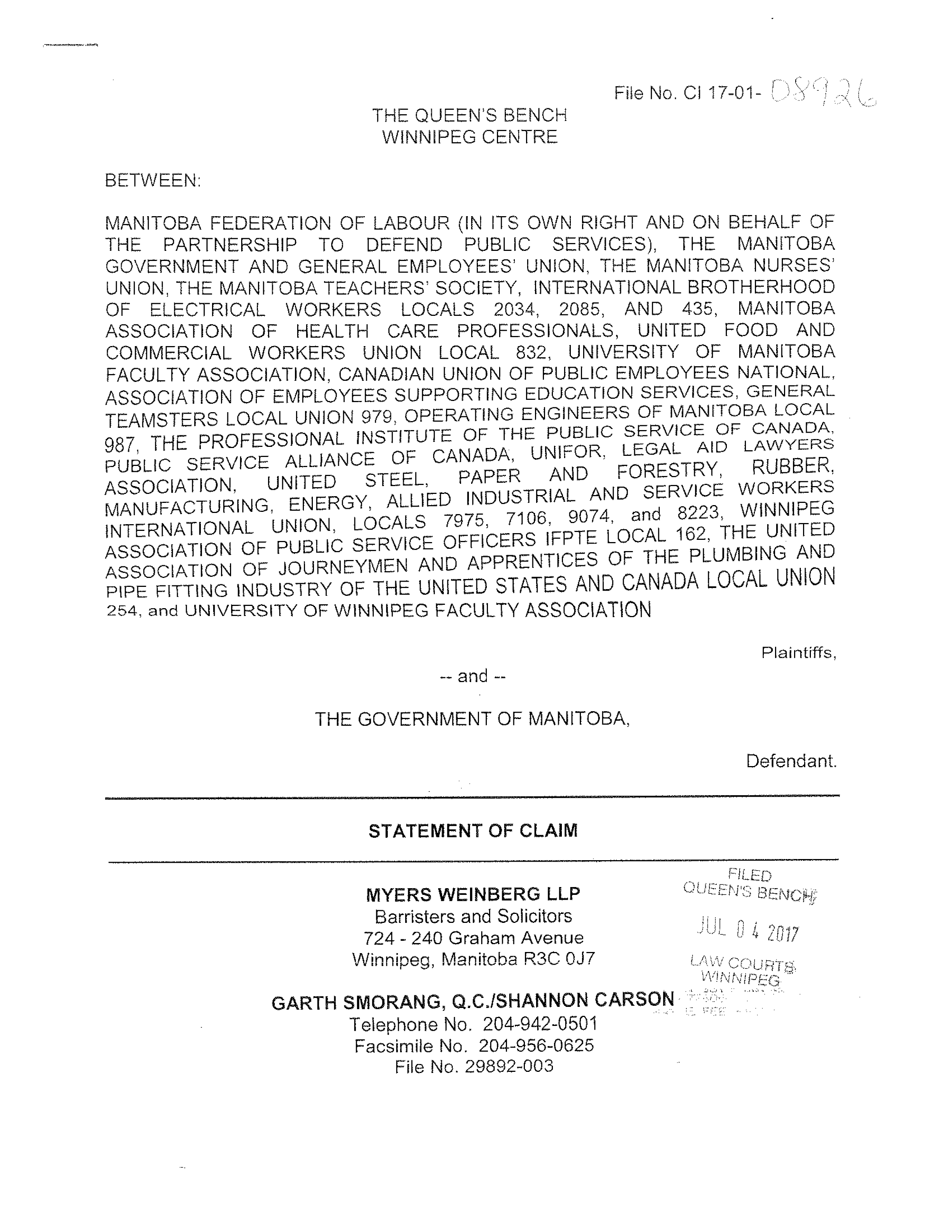 STATEMENT OF CLAIM filed in the Court of Queen's Bench on July 4