Gender-based Salary Differentials — Joint Recommendations
At the conclusion of negotiations in 2016 the administration agreed to strike a joint committee to look at the salaries of Members and determine if there salary gap between male- and female-identified faculty. While there were some bumps along the road, a study was produced in January of this year and presented to the Board of Reps in May.
Based on the report, the committee made the following recommendations, which will inform our work as we move toward negotiations in 2020:
The annual scrutiny of faculty salaries, using ORS, Blinder-Oaxaca and multi-level modelling and other sources of information, including exit interviews (see Recommendation 7), with a written report to the University community and UMFA at least once every five years;
Qualitative study of male and female instructor salaries, where evidence suggests sex-based salary gaps;
Further study into career progression at the University to understand why women are 15.5 percent less likely than men to be Full Professors at year 12 and onward;
Qualitative and survey research into male and female workloads, in order to understand both women's slower career progress and marked differences in employment past age 65, as well as other climate-related issues;
Study into a different dimension of possible salary inequity, namely gaps in members' pension fund accounts, which may affect income in retirement;
More sustained and resourced efforts to ensure equity in faculty hiring, given that women remain under-represented in many disciplines and faculties.
Exit interviews when faculty resign or retire, in order to assess how climate and related factors may impact recruitment, retention, and career progress. Data from such exit interviews should be integrated into public reporting (under Recommendation No. 1).
Special thanks to the UMFA representatives on the committee for their hard work: Drs. Susan Prentice (Sociology), Tracy Peter (Sociology), and Tina Chen (History).
Joint Committee Final Memorandum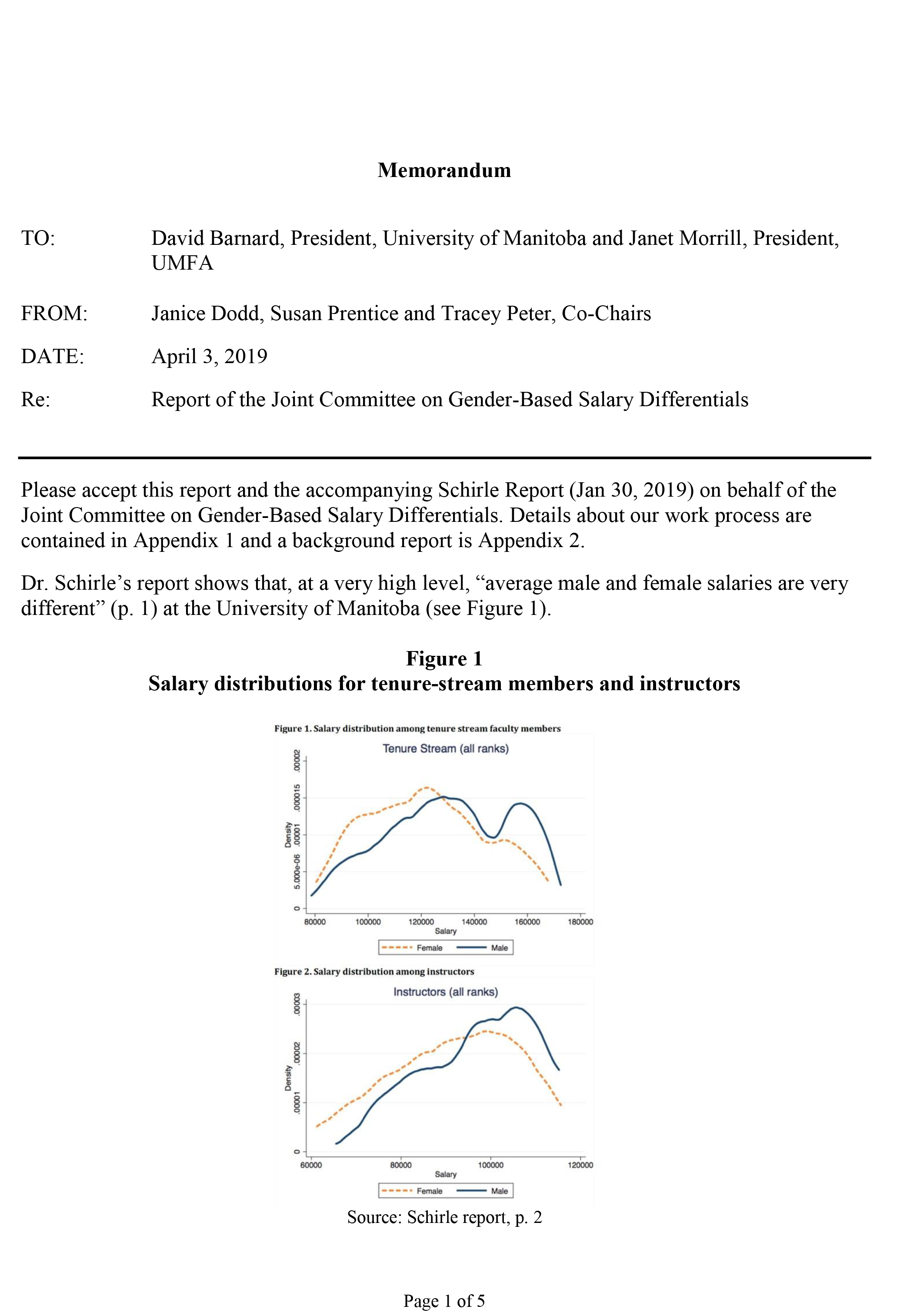 Study of Gender-based Salary Differentials at the University of Manitoba - Final report